Fur Ball Sponsors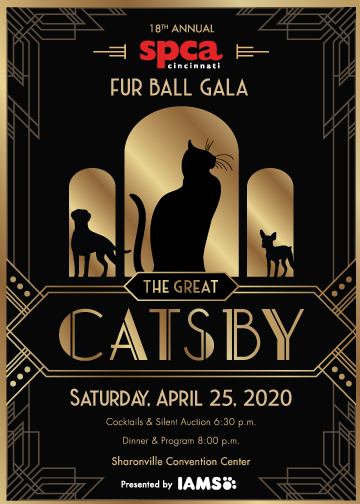 A video about our Mission:
We are proud to have IAMS™, a MARS brand, for yet another year of sponsorship and support of shelter pets across our great city. They have been a valued partner for the past two decades and are our Presenting Fur Ball Sponsor for 2020. Their dedication, support, and commitment to donating truckloads of dog and cat food over the years has helped provide critical nutrition and answered the needs of our shelters for tens of thousands of animals in our care.
We are proud to have Swiffer as our Fur Ball 2020 Platinum Sponsor. Since 1999, Swiffer has become a favorite cleaning companion. From Swiffer WetJet to Swiffer Dusters, Swiffer is used in more than 50 million households around the world. They are a valued supporter of SPCA Cincinnati and friend of animals.
Care Center, located within minutes of our Sharonville shelter is a trusted and vitally important partner to SPCA Cincinnati. The staff at Care Center assists us with emergency services to provide immediate care to animals, often involving complex treatments or even surgery. Their contribution to the care of animals is an important reason we save so many lives.
There has been a Schiff family member involved with SPCA Cincinnati for nearly 50 years. Currently that member is Tom Schiff, a recipient of the PB Johnston Humane Care award. Tom has been a generous contributor and friend to staff and furry friends. There isn't an event he does not support, even helping design a special event recognizing donors in his own home.
Tom Chatham, SPCA Cincinnati Board Chair is actively involved in raising awareness among his business colleagues as to the importance of supporting the plight of homeless and unwanted animals entrusted to our care. Tom has been known as a matchmaker-finding humans for pets who need homes! USI Insurance has been a generous supporter of our events over the years.
We are proud to announce that Z Place for Wine & Cheese is SPCA Cincinnati's exclusive Wine Wall sponsor at our 2020 Fur Ball gala. The idea behind Z Place for Wine & Cheese is to create a comfortable environment for enjoying wine and providing access to hard-to-find selections from smaller vineyards - the hidden gems. They pair these wines with cheese and other food to increase the enjoyment and support the diversity of taste palates among us. They make the joy of wine accessible to everyone.
Prestige AV & Creative Services has partnered with SPCA Cincinnati to produce the most professional events possible. Their support extends to sponsoring nearly every event we host, and we are thankful for their continued support.
The City of Sharonville & Sharonville Convention Center is in its 6th year sponsoring as the home for SPCA Cincinnati's Fur Ball Gala. In addition to providing an amazing venue for our premier event, they also support SPCA Cincinnati at other events throughout the year.